Looking for a ceilidh band in Aberdeen or the North East of Scotland?
The Aurora Ceilidh Band plays traditional music for ceilidh dancing in lively and innovative style. The band line-up includes accordion, fiddle, flute, mandolin and guitar. We play for all the usual ceilidh dances together with many other less well known ones. Our repertoire also includes a number of international dances picked up on our travels to international folk dance and music festivals. Our expert dance callers will guide you through the dances and make sure you don't put a foot wrong. In addition, we can also provide dancers to assist with the ceilidh dancing or provide a lively performance of Scottish dance during the evening.
You can sample the atmosphere by viewing clips on YouTube – search for Aurora Ceilidh Band.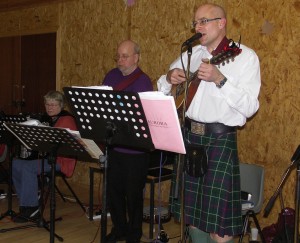 To book the band or dancers for your event or for more information please
contact Gillian Mackintosh