7th – 12th August. Aurora welcomed Dancers and Musicians from Gascony in France. Their coach finally arrived at Newmachar around 9pm after a mammoth journey from Toulouse and our guests were tired and very hungry. Luckily, Aurora are well experienced at providing a warm welcome and plenty of refreshments! Friday 8th was warm and sunny, but the weather went downhill as the remains of hurricane Bertha arrived. By the time of the coach trip to Glenfiddich and the Speyside cooperage there were extensive floods. The visit was highly successful in spite of having to make alterations to the programme due to the weather. Some Aurora members had enough energy left to wave goodbye as the coach left Newmachar at 5.30 on Tuesday morning!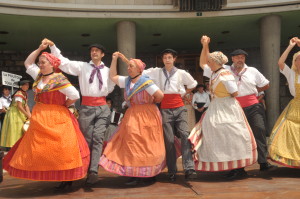 Click here to see the programme.
You can visit the website of Le Poutou de Toulouse (in French)
Le Poutou de Toulouse .